FACE OF SEATTLE:
Is it Time for Her
to Lose the Braces?

The Seattle Alaska Street Viaduct is a hot issue these days. Outliving its designed life and badly in need of a severe overhaul, the structure is a testament to Seattle's utilitarian and industrial past. Many say that it is out of place in the new high-tech Seattle vying for world tourism attention. During the days when the viaduct was originally conceived, Seattle was of little importance as a tourism town. Sure, it was the Gateway to Alaska, and the orient. But until the World's Fair in 1962, none had hardly considered destination travel to Seattle in comparison to other cities around the globe.

Seattle suffers from a severe lack of waterfront character due to the prioritization of traffic. West Coast cities like San Francisco and Vancouver, BC have extensive waterfront facilities to attract tourists. Other cities like Boston and Baltimore managed to greatly improve the livability and appeal of their waterfronts transitioning them out of the industrial age.
The Viaduct was built when the Pacific Highway (State Route 99) was the main roadway on the West Coast of the US from Canada to the Mexican border. Today, it serves as a secondary route to Interstate 5 in Seattle, which replaced it as the new West Coast artery almost 50 years ago. Although the cracked, graying structure is crumbling, its need is far from obsolete as it transits some 800,000 vehicles a day--at only a snails pace during peak times.
There's no doubt that the existing structure has got to go. The original contractor has been praying for its demise for a long time. "The support columns just didn't have enough horizontal rebar in the first place" according to an ex-Bethlehem Steel Company employee who knew of the inside workings. "The next big earthquake is bound to be a catastrophe," he says. Pointing to the possibility of the columns splitting open and dropping the car decks like I-80 in San Francisco.
Surprisingly little discussion has been put forth in the media regarding other alternatives to the two options of rebuilding the viaduct or beginning an 11 year multi-billion dollar headache of constructing an extensive capped cofferdam under a waterfront park--leaving the current generation of commuters to greatly suffer in a city that already boasts one of the worst rush hour traffic snarls in the country.
What are the other alternatives? Well, here's some we haven't seen discussed: What about bypassing the waterfront all together? Let's make the dirt under 5th and 6th avenues the main SR 99 thoroughfare through the city. Tunneling under the city with the same technique now being used to drill light rail tunnels under Beacon hill may make a lot of sense. We have a lot of local tunnel boring talent here.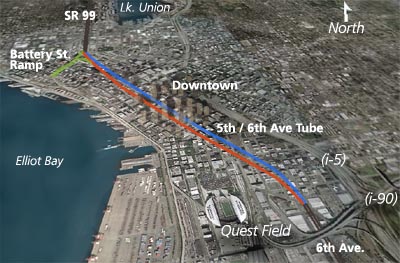 The north end of the new tunnel can start right where it is now at the north entrance to the existing battery street tunnel. While traveling southbound on SR 99, the new tunnel would bank slightly to the left rather than to the right as the existing structure does now. There is about a quarter mile of parking lots and single story structures that would not impede with a gentle-declining tunnel as it proceeds southbound below the elevation of the bus tunnel.
The advantage of this solution is that there would be minimal long-term traffic impact as the southerly entrance could surface at 6th avenue (south of Jackson Street in International District), which is only lightly traveled by local traffic. South of downtown, an elevated roadway can be constructed to elegantly cross the South Seattle rail yard to connect with 1st avenue just north of the First Avenue Bridge.
The existing battery street tunnel would still be left open as an on-off ramp connecting Western Avenue to SR 99 as it does now. The present space occupied by the viaduct south of the ferry terminal could be used to stage cars for expanded Bremerton, and Winslow ferries. Giving an opportunity to clear up traffic congestion at the docks and possibly allow more frequent boarding and larger boats.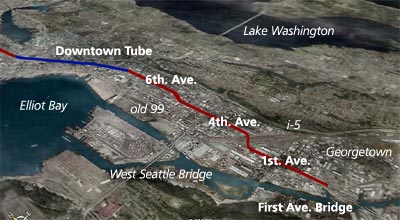 There is no question that a non-stop alternative to I-5 needs to be maintained throughout the city. It's surprising that Seattle politicians have only publicized two alternatives with such drawbacks. It almost seems like the same folks that were run out of Boston for "big-dig" fiascoes have shown up here to suck taxpayers into another white elephant.
Many say it's time for Seattle to get its braces off. The tourism industry is a large proponent of anything that beautifies the Seattle waterfront and improves its water-centric amenities. Tourism experts contend that the viaduct has been a loud and unsightly barrier between Seattle and it's waterfront for too long.
Waterfront park proponents fear that Seattlites have been accustomed to the structure for so long, they can't visualize what Seattle would be like with an expansive waterfront promenade ringed with restaurants and shops. Open public spaces are a vital element in healthy cities. They provide sanctuary from the pressures of the daily work environments and relieve stress to stave off depression--a major incalculable benefit to employers. Most major cities have these spaces because they provide long term return on investment--not only for tourism, but also for the health and mental well-being of their own residents. Central Park in New York, the Embarcadero in San Francisco, and Stanley Park in Vancouver BC all share a common theme to provide breathing space in the midst of a concrete jungle. The majority of destination cities through out the world sacrifice high-value land for public spaces. Seattle fell far short of its original turn of the century plans for extensive parks and green spaces.
Is Seattle ready for it's own version of the Golden Gate Bridge?
Another option to the narrow band of choices being considered is a cross-harbor suspension bridge. As the Puget Sound area continues to grow, it's not hard to imagine that Seattle could greatly benefit from a route spanned between Duwamish Head and Interbay. With today's high-tech high wire structures, a suspension bridge solution could be in Seattle's future. These elegant structures have become icons for other cities. While a span across Elliot bay is expansive, it's well within reach in comparison to recent bridge projects around the world. And like the light rail tunnel project, we have plenty of local suspension bridge talent to go around due to the construction of the new Tacoma Narrows Bridge.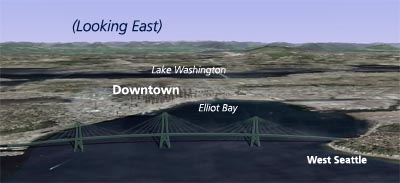 In this scenario, there is be ample room for a four to six lane highway starting at the present termination of I- 599 near the First Avenue Bridge--it could proceed Northward along the hillside adjacent to West Marginal Way (just like I-5 straddles the hillside to the east. After running under the West Seattle Bridge and over the Port of Seattle container terminals, it could take a short bite into the hillside again at Duwamish Head and then emerge around California Avenue to jut out over the water. The end of the span could land over the rail yards at Interbay and terminate in Ballard. Extending I-517 to Ballard would allow an efficient link or residents of Seattle's northwestern neighborhoods to the south end.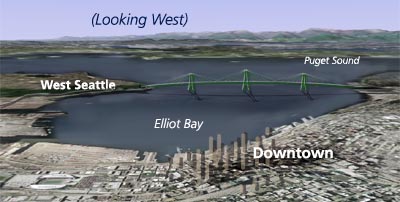 Big dreams have always been an inherent part of Seattle's past. In a Seattle City Plan of 1911, a great central promenade was envisioned that was to rival the stately main avenues in many European cities--with a grand roundabout and elaborately adorned public structures place in the area now known as Belltown. It was never built, but the big dreams of yesteryear were an inspiration for things that followed.
There has never been a lack of dreams and ideas in Seattle. Perhaps to the city's detriment in that long-term progressive plans often lay waste to whims of political change and short term economic inspiration. Hence the great express way proposals buried in the city archives, envisioned in the late 1950s could have been the savior for Seattle's troubles today. Every decade or so, someone in the media finds the old dusty boxes and reminds the people of Seattle what could have been if they had only looked ahead.
Today, Seattle sets poised on the world stage struggling with indecision again as to what to do. Like an actress who has forgotten her lines, she stumbles to utters words and give motion without clarity and forethought. Delusions of grandeur perhaps, but the beauty of the Puget Sound region has been the real underlying force that has captured the world's attention to put Seattle front and center on that stage.
---
If you are interested in getting involved in changing Seattle's waterfront, here are a few groups who are promoting alternatives to the Alaska Way Viaduct:
"Not Another Elevated Viaduct"