Mothership Kayaking:
Connecting Your Soul
With the Natural
Beauty of Puget Sound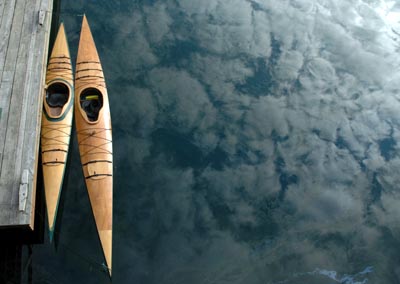 Kayaking is the most personal and peaceful way to connect your soul with the natural beauty of Puget Sound. For those who partake in self-propelling their human bodies alongside the sleek bodies of whales and seals down under share a common sense of existence. - At least until feeding time. The downside to kayak trips is the lack of space for all those modern day conveniences.
The ultimate kayak adventure for those who desire to "rough it" in moderation is to utilize a "mothership" at periodic stops along their voyage. A place to get warm, refuel, and relax out of the elements. Or a place to meat up with your worldly travel possessions as you efficiently glide through the water in a light boat. Using a mothership escort as your expedition headquarters adds an element of safety to your voyage too.
Some of the best kayak tour operators in the northwest employ the mothership concept to get you out to the perfect remote places in style. - So that you are rested enough to enjoy the scenery you paid to see. Some say it's the lazy man's (or woman's) way to kayak. But, at noon after a strenuous few hours of paddling, when a hot gourmet meal is served aboard a private yacht or charter boat acting as your mothership can make your adventure trip far more rewarding.
Mothership trips are easy to arrange. If you don't have a friend with an adequate power vessel, there are a number of charter companies who can probably be coaxed into providing escort services. Cedar Wave, for instance, will be offering classic yacht charters and gourmet mothership services for kayakers starting mid summer. The company promises to provide first class day accommodations on its newly refitted 33' and 36' classic wood cruisers. They will provide meals and gear transport for large kayak and rowing groups. They believe that expedition paddlers will cover more ground with light boats and happy stomachs.