ROMANCE BY THE SEA:
How to Find
the Perfect B&B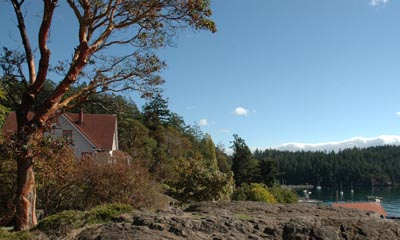 There is nothing more romantic than finding a cozy little bed and breakfast with an expansive view of the sea. For most people, the whole idea behind going to a B&B is for the relaxation, ambiance and personalized attention far removed from the constant buzz of activity associated with large hotels and resorts that seem to apply a kind of honeycomb approach to packing guests into there vacations suites.
B&B's are usually run by owner operators who have a passion for creating a comfortable and unique atmosphere for their guests. Often, owners live on the premises and adorn their properties with moderately lavish gardens, intimate alcoves, and some sort of theme--be it country antiques, feng shui, European eclectic, artsy, or some other creation that inspired the owner beyond just a way to part you from your money. I have yet to run across a B&B franchise.
B&B's are usually an artistic expression of the proprietors. Whether it be a working island farm or a meticulously restored Victorian perched above a desolate beach. A good coastal B&B are what many romantic Hollywood films are set in.
You must first start with an attitude adjustment. Finding a great B&B starts from within. Throw out your hotelish expectations because mini bars, valets and room service are not usually part of the program. You will most likely be visiting someone's personal home. Or al least one that feels very much so. You often get your own room, but there is a common dining area where you may get a chance to converse with the proprietor or meet other travelers--B&B's are a great couple's retreat. So don't expect to meet prospective mates at poolside. You can go to Vegas for that.
B&B's often offer the kind of solitude and intimacy you can't get at a hotel or resort unless you pay exuberant prices. It's not always a good idea to develop too much expectation, as every B&B experience is different. But it is good to identify what you like in terms of style, location, proximity to activities you enjoy and menu.
Finding a B&B that fits your requirements is not as easy as booking a hotel. But with the Internet, it got a whole lot easier. Unfortunately, since B&B's are little independent businesses, they are not all listed in the same place. You often really have to search to find the perfect one. Sometimes the list with B&B organizations, other times they are members of the local chamber of commerce. We have compiled a comprehensive list of B&B's on our directory pages for you to find in the Puget Sound region.
When you find a B&B you like, be sure to contact the proprietor directly to make sure a room is available on the date you want--popular B&B's can get quite booked during high season in the San Juan Islands, and near the major population centers in Seattle, Vancouver and Victoria. It's also great to speak with the proprietor about the purpose of your stay so that they can help you get the most out of you retreat. Maybe it's an anniversary and rose petals are in order, or you're the early riser type and want to get a quick run and shower in before breakfast. Or perhaps you are bringing some of your own gourmet lunch food to enjoy and you need a little reefer space. Whatever it is, let the proprietor know your plans--most of them are eager to make you go home ready to give raving reviews.
The Puget Sound region has many beachfront and near shore B&B's to select from. A romantic memorable way to arrive and depart from one of these B&B's is to travel by boat or sea plan. It makes the whole experience that much more exotic when you leave the familiar car at home. There are a number of boat charter companies listed in our directories, as well as Sea plane charters. Cedar Wave for instance, will be offering special B&B tour packages this summer departing from Seattle to nearby Bainbridge Island, Whidbey Island, and Port Townsend.