ISLAND MOUNTAIN ELEGANCE:
Experiencing Vancouver Island's
Aerie Resort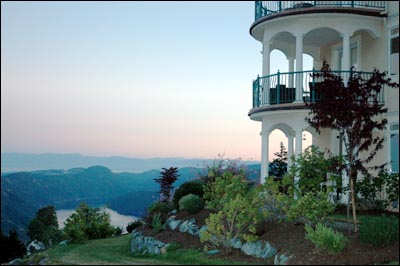 Located a brief jaunt north of Victoria, The Aerie Resort is nestled high in the coastal mountains of Canada's, Vancouver Island. Boasting a spectacular view of Victoria, the San Juan Islands, Olympic Mountains and view of the Strait of Juan de Fuca, the Aerie Resort may just take your breath away. The sunrises and sunsets here elicit unforgettable moments of sheer joy. It is no wonder that Travel & Leisure Magazine has named the Aerie Resort the World's Best Hotel for value and it has been the Recipient of the coveted AAA Four Diamond award for the past six consecutive years."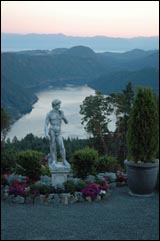 Its' proprietress, Maria Shuster, originally from Austria, has brought her warmth, charm and love of the natural outdoors to the fine details that make the Aerie Resort a perfect destination for the discriminating traveler. Surrounded by 85 acres of natural and meticulously kept grounds, The Aerie Resort provides a perfect respite from the weary world. It is also a perfect choice for guests who seek a romantic hideaway, wedding, or special occasion celebration. Numerous awards and accolades are proof positive of the consensus that the Aerie Resort is a jewel in and of itself. Named, "one of the best places to dine, by Zagat's reader survey, you will savor a dining experience that offers regionally inspired cuisine by Michelin experienced Chef, Christophe Letard. Using local and fresh products from seafood to game and tasty mushrooms and berries, Chef Letard will not disappoint even the most discriminatory palate.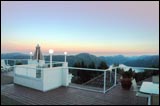 If you are lucky you will also meet Dragon, one of the famed Maitre d's. His European culture and background and wealth of knowledge of all that is local will astound you. His choice of wine accompaniment will please and delight your culinary soul. His charm and wit will further enrich your visit to this grand setting and you will always receive impeccable service making your dining experience an unforgettable adventure. For the truly adventurous, as explained by James Kendall, General Manager, you can partake in a private cooking class or take part in a farm and winery tour in the spring and summer months, or mushroom foraging in the fall led by a local monk. Blessed with the abundant landscape that comprises the Cowichan Valley, it is easy to see why Chef Letard has at his fingertips an outstanding array of fresh produce, cheese, lamb, poultry, balsamic vinegar, and fine wines to emulate his French influences. It is a never ending delight to partake of the atmosphere, fine wines, and joie de vivre that make the Aerie Resort one of the Best Hotels in North America as deigned by Travel and Leisure Magazine in 2006.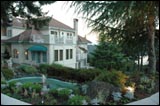 If you are searching for a distraction from the sometimes stressful and frenetic world, the Aerie Resort offers a Spa and Wellness Centre that will care to your weary needs. The professional staff will provide rejuvenating spa treatments with selected botanicals from the Eminence Organic Skincare line that will cleanse, tone, moisturize and provide results. Using ingredients that are native to Vancouver Island, and locally harvested seaweeds, a wide collection of creams, masques and treatments from Outer Coast Seeweeds is also available to take home. For the more active guest, an 1800 square foot Cardio and Strength training facility provides a means to an active workout.
Whatever your respite from the hectic lifestyle you lead, you will find the Aerie Resort offers a calm and charming atmosphere. Maria Shuster has created a European styled boutique hotel with 3 unique locations for her guests. The original buildings with 22 rooms and suites is elegant and close to the main amenities. The Residence has seven rooms and suites adjacent to the spa, with views of the Sannich inlet and Olympic Mountains, the rooms have a living area with soaker tubs and leather sleigh beds. The six Villa Cielo's guest suites are pampered with unparalleled views, gas fireplaces, king sized beds, down duvets, and huge balconies. Whichever location you choose you will have an incomparable experience that will last until your next great getaway. A member of the distinguished association, Relais & Chateaux since 1996, the Aerie Resort promises a lasting impression. For more information on directions and The Aerie Resort visit www.aerie.bc.ca