SEATTLE:
Emerald City by the Sea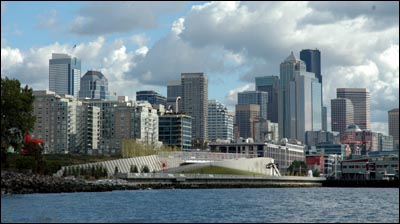 Given its proximity to the Pacific Rim, Seattle, also known as "The Emerald City" is a thriving mix of cultural diversity. This is evident in its award winning culinary chefs and the entrepreneurial attitudes of its citizens. World Class medical centers and universities like Fred Hutchinson Cancer Institute, University of Washington and Harborview, and the Swedish Medical Center to name just a few attract the best and brightest to research. As of this writing, the University of Washington has 5 Nobel Prize winners on staff and Fred Hutchinson has 3. With the country's highest number of citizens who hold a college degree, it is no wonder that Seattle and the innovative curiosity of its residents have allowed so many millionaires to flourish here. Thousands of Microsoft employees have become millionaires as a result of opportunities and business growth and numerous brave souls have taken risks to start up companies with nothing more than their passion and innovative skills.
The natural beauty and grandeur of the Seattle skyline, Cascades and Olympic Mountains strikes first time visitors with a sense of awe. On a clear day, spectacular views of Mt. Rainier and the sparkling waters of Puget Sound encourage visitors to take part in the enjoyment of nature. Just take a tour of REI, (Recreational Equipment Inc.) Seattle's premier outdoor sporting and recreation store and you'll understand the ardent fervor that possesses Seattle's residents in their quest for exploration. Surrounded by water, Seattle has become a gateway to other destinations. Ferries and cruise ships dot the Puget Sound bringing tourists and locals to and from the downtown corridor to destinations like San Juan Islands, Vashon and Bainbridge Islands, Port Townsend, Victoria, British Columbia, and cruises to Alaska.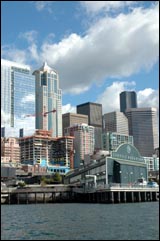 Local attractions include the famous Pike Place Market established in 1907, a popular venue for farmers, craftspeople, merchants, restaurants and street performers. The Seattle Aquarium with hands on exhibits encourages exploration of marine life and conservation techniques. The Seattle Art Museum with its world class exhibitions, and the Pacific Science Center features a hands on educational museum, IMAX theater, planetarium and science exhibits. There's Museum of Flight, the largest aviation museum on the west coast. Additionally for history buffs, there is the MOHAI, or Museum of History and Industry that has a 1.5 million photographic collection and oral history catalog. For those interested in the culture and history of the Asian Pacific American community there is the Wing Luke Museum with its strong community link to Seattle's Chinatown and International District. Of course there is also the oldest most historic neighborhood in Seattle, Pioneer Square, which is home to many of Seattle's fine art galleries, restaurants and shopping districts. It is also home to the Underground Tour where visitors can experience the now forgotten storefronts, which were destroyed in the famous Great Fire of 1889.
If you visit in July and August you'll get a chance to experience Seafair, one of Seattle's most popular festivals. This summertime event begins in July with a Milk Carton Derby race and features a marathon, a triathlon; numerous Seafair parades and culminates in August with the U.S. Navy Blue Angels, the Torchlight Parade and the renowned Hydroplane races. Seafair has become synomous with Seattle culture and represents community involvement at its best.

Whenever you choose to visit Seattle, you'll find something for everyone from the Seattle Music Project, the brainchild of Paul Allen and his love of rock and roll history with its hands on music lab, to McCaw Hall, home to Seattle's Opera and the Pacific Northwest Ballet. If you are craving Asian cuisine, take a ride on the streetcar to the International District and explore Chinatown. If your interest is sports, you can, depending on the season get tickets for major league baseball, basketball or football. Take the kids on a ferry ride, visit the Woodland Park Zoo with its inspiring and humane exhibits, charter a boat, go whale watching, see the Hiram M. Chittenden Locks and watch the salmon migrate. The list of plans and adventures is endless. One word of warning--it does rain, umm, frequently in the winter months and there is a Starbucks on nearly every corner. Otherwise you'll find Seattlites a pretty civil bunch of folk who genuinely like visitors. For more information, check out the Seattle Chamber of Commerce www.seattlechamber.com and request a Visitor's guide.