FABULOUS FAIRHAVEN:
Colorful Past
with a Bright Future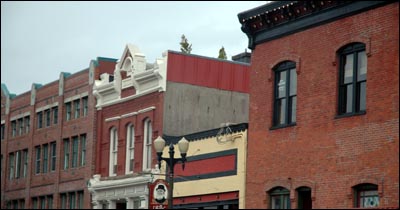 Located on the Bay in South Bellingham, the old historic town of Fairhaven shares a lively and colorful past, and today is rich in both charm and character. Founded in 1871, by Daniel J. Harris, later known as Dirty Dan Harris, the town of Fairhaven was born. Dirty Dan, so nicknamed for his hygience, or lack of and his uncouth dining manners was nonetheless a good business man. He made his living by smuggling and rowing goods from Victoria to Fairhaven. From this successful trade, he managed to purchase all the land that would become the town of Fairhaven. He then sold the parcels of land to eager settlers who flocked to the area to make a new life.

In the sixties, Fairhaven became a popular hangout for hippies and the town and its inhabitants developed the area to be a comfort from mainstream society. Birkenstocks, backpacks, grunge and organic fare were staples of the area and college students dominated the coffee shops and restaurants. Today there is evidence that Fairhaven still blends the old with the new. However, today visitors can find unique shops, fine dining and art galleries as well as book stores, fresh produce and artisan cheese shops. Fairhaven has become a historic district rich with beautifully restored buildings, elegant waterfront hotels and spas and speciality boutiques. You won't find any chain restaurants and the visitors and residents want to keep it that way.
As a gateway to Alaska, from the Bellingham Cruise Terminal you can take a ferry to Alaska, the San Juan Islands or Victoria. You can catch the Amtrak train to Vancouver, BC or Seattle and Fairhaven also has extensive trails for hiking, biking and running. Bicycles, kayaks and canoes can be rented in town and a myriad of activites from wine tasting to relaxing at a World Class spa awaits the adventurous traveler.