NATURE'S FREE GIFT:
Blackberry Picking
Around Puget Sound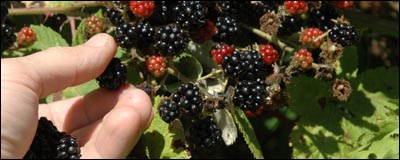 If you love to get outside for a summer walk in any Puget Sound neighborhood, you might be wise to bring along a small container. You could be rewarded with an abundant find of blackberries. In the Northwest and Puget Sound environment you can find blackberries depending upon the weather usually in late July. They are ripe, juicy and delectable and a free treat if you are willing to venture in their thick thorny patches that seem to grow wildly across the landscape. Some stems can reach up to 25 feet or longer and their long canes can grow quickly and root easily. Birds also drop their seeds and since they are a perennial they will come back year after year after dying down to their roots in the winter months.

There are two kinds of blackberries that you will generally find here in the Puget Sound area. The blackberries here are either the Himalayan or Evergreen variety. Neither are native to the area. It is believed that the Himalayan originated somewhere in Asia and the Evergreen came from Europe. Both are thought to have been introduced to the area as food sources. Since we are blessed with the right soil and temperature for them to flourish here it seems a shame not to enjoy them.
Here is a simple recipe for a Blackberry Cobbler:
If you prefer you can freeze the berries or make this treat which will be a delight for all!
Blackberry Cobbler
8 cups blackberries
1 cup sugar
1/4 cup tapioca
juice of 1/2 lime and sprinkle of salt
toss the above together and spoon into baking dish
Combine the following:
1 cup flour
1 cup sweet shredded coconut
2/3 cup sugar 1/2 cup pecans chopped
1/2teaspoon baking powder
1/4 teaspoon salt
1/2 cup unsalted butter - cut into cubes
Add one egg to this mixture and pour over blackberries. Bake at 350 degrees for 30-45 minutes, oven temps may vary, check for doneness. Voila ...