FIRST TIME CHARTER:
How to Select a Private Charter Boat
There is nothing more enjoyable than being out on the water on a course of your own whim. Cruise ships are locked into specific routes months in advance--and even if you sit at the captains table every night, you will probably not be successful at convincing him to steer an alternate course to satisfy your curious desires. Sight seeing and tour boats are usually the same kind of deal. If there are lots of other people, your desires just don't count for much. However, charter your own vessel, and suddenly you are in control of your vacation destiny!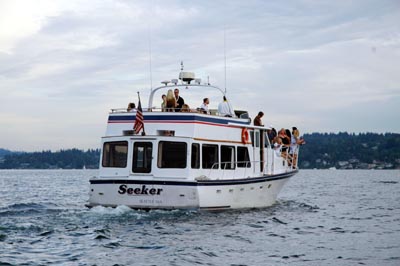 There are two types of charters generally offered in seaport towns. "Bare Boat" charters mean you're the captain--you are responsible for the safe navigation and return of the vessel. "Skippered Charters" mean that a captain (and often a crew) is provided--in this case, if you are not sharing the charter with anyone else, you are the Admiral--you get to direct the captain (within varying degrees of reason depending on the region, sea condition, schedule, and the tolerance the captain has for your incisive nagging to drive the boat where it can't be driven. Most skippers of private charter boats are more than happy to let you make decisions on where you want to go within the confines of the sea charts, time limits, and safe operation of the vessel.
Quite often in the United States, you will run across a term called "Six-Pack Charters"--it has nothing to do with how much beer you can bring on the boat. Six-pack is a term used by the US Coast Guard to classify certain types of charter boats. Boats that are limited to six passengers are often originally built as private pleasure craft. The US Coast Guard highly regulates the construction of commercial passenger vessels without regard to size. It's an expensive process for the builder to get a US Coast Guard certificate. Because of this, the USCG allows small charter operators to use "Uninspected Vessels" for charter as long as the number of paying passengers does not exceed six people (including children). This is why you can scream, kick and holler at a six-pack captain, without usually getting an ounce of sympathy toward your long lost cousin that happened to show up at the dock. The US Coast Guard is now governed by Homeland Security and is not negotiable in such matters. If you are looking to a skippered charter to take out more than six people in the US, then it has to be on an inspected vessel. There is one exception in that if the boat has a net tonnage in excess of 100 tons, then the limit is 12 people under certain conditions--this is usually a relatively large boat (80 to 150 ft). The term "uninspected" does not mean that the charter boat is not compliant with US Coast Guard regulations--all US charter boats must comply with USCG safety requirements and are subject to inspections.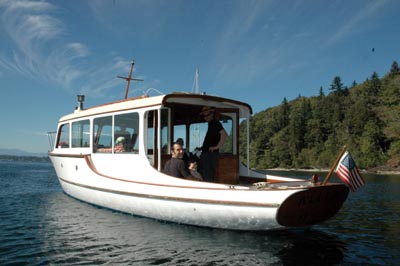 Private charter boats come in all shapes and sizes to fit any would-be ocean explorer, weekend pirate, or legendary fish slayer--or anyone else that loves boating. The basic categories for private charters are most commonly Sailboats, Cruising Yachts, and Fishing Boats. Small watercraft like speedboats, day sailors, kayaks and jet skies are usually referred to as rentals rather than charters. It just doesn't sound right when you call up your buddies to join you on the canoe you chartered for the weekend.
What is most important about booking a charter is to decide on what kind of experience you would like to have. Are you a wildlife enthusiast, adventure seeker or sportsman? Are you desiring peaceful solitude or romance? Are you planning a special event or wanting to impress your clients enough for them to buy your services? What ever it is, its best to think through your ideal voyage before you leave the dock.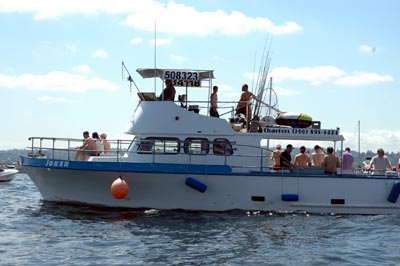 The atmosphere varies greatly onboard each charter vessel. Some are elegant and modern, while others carry traditional charm. While still others are very utilitarian and ideal suited for a specific purpose like fishing or adventure exploration. When you decide what kind of experience you are seeking, it will become more obvious on the type of vessel you will want to book.
It's good to know a few simple things about boat design too. In general, the bigger and wider the boat, the less it will rock. If motion sickness is problematic in your group, then chartering the largest boat your money can afford may be your best option--be sure that it has a lot of windows so that queasy passengers can keep their eyes on the horizon. For the smoothest, most peaceful ride, traditionally designed wood boats can't be beat. Big engines can make a lot of noise and fumes but get you long distances quickly, while lower horse power engines can be quite and efficient, but limit your cruising distance and require strategic planning to avoid bucking the tides.
Whether can frequently be an issue when you are selecting a charter boat. If there is a chance of cold rainy weather, you want may to make sure you either have the right clothing to stay warm and dry or choose a vessel with comfortable inside spaces. Hot and muggy weather may prompt your desire for air-conditioned cabins. Studying the equipment and amenities available on each charter boat you consider will help you decide what you need in the waters you will be cruising.