GETTING AROUND
THE SOUND:
Ferry Tripping Made Easy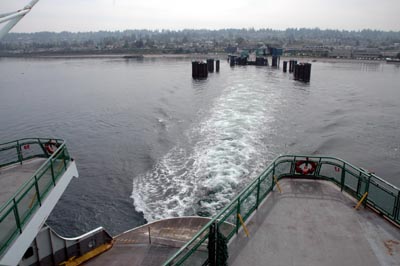 Between Washington State and British Columbia lies the most extensive ferry system in the world. These giant boats carry millions of passengers each year to more than 60 ports within the region. Washington State Ferries operates 28 vessels on 10 Puget Sound routes, while BC Ferries operates 36 vessels navigating 33 routes around the Georgia Straits.
It doesn't take much imagination to realize that there is an almost limitless opportunity to get out to the remote reaches of the greater Georgia Basin. Whether you drive or walk onboard, you can have a front row seat to see some of the most amazing scenery in the world--without paying for a high priced cruise! Due to the geographical characteristics of the Northwest, there is much to see as the ferries make there way by the evergreen-shrouded islands and rocky shorelines. It's not uncommon to catch a glimpse of seals, sea birds, and even whales on occasion.
Ferries serve as a vital year-round link to the communities around the region. They're a great way to meet locals and travelers alike. All these vessels have ample passenger areas featuring big windows and expansive indoor seating. Many have full kitchens serving a variety of quick meals.
Most routes don't require reservations. (You may need reservations on a few of the longer and less frequented routes). The best time to jump onboard a ferry is during off-peak hours. Many local residents rely on the ferries to commute to and from their jobs during weekdays while weekend travelers swarm to the docks on Friday and Sunday afternoons.
Some routes take less than 30 minutes while others last a couple hours. It doesn't really matter though. When you get out on the water, you get a different sense of time. The smell of the fresh salt air, the subtle rhythm of the ships propellers, and the sound of waves splashing at the bow instantly instills a sense of tranquility.
Click below to find more information about local public ferries:
For a complete list of ferries, see our Ferry Directory listing