MAKING CLAMS PAY:
The Big Bad Geoduck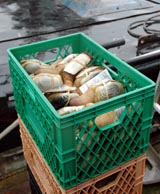 The Geoduck, also known as king clams, is the largest burrowing clam in the world. It makes its home in the cool local waters of Washington, British Columbia and even as far North as the Alaska Panhandle. It's a giant among the local mollusks--a community of stationary bivalves primarily residing in bays and estuaries near the reaches of low tide. It's seven to nine inch shell fits like a tiny bikini over the clams enormous trunk-like body which can get up to six feet in length. The average mature Geoduck weighs in at two to three pounds while the grandaddies can get up to 15 pounds. Since these clams lives deep in the sand, they are well protected from natural predators. Their average life expectancy is 146 years--making them one of the longest living members of the animal kingdom.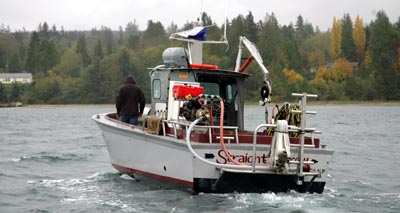 Puget Sound waters are loaded with Geoduck according to local fishermen. They grow anywhere there is a snugly sandy bottom to call home. Fortunately for the Geoduck, the receding glaciers of the last ice age deposited enormous amounts of sand throughout the region--spoil from the ravaged and pulverized mountain ranges buried under half mile thick sheets of sliding ice. The highest concentration of Geoduck is in the South Puget Sound where they typically grow in depths of 10 to 80 feet below the mean low tide mark. As they grow, they burrow about a foot per year until they reach a depth of about three feet where they stay put for the remainder of their lives. There is no shortage of them. With a estimated population of over 109 million in Washington waters, Geoduck are the most plentiful animal species in Puget Sound.
Geoduck clams are a delicacy in ritzy eateries around the world. Most are harvested for Asian markets. China accounts for the largest single export destination where Geoduck "gut-sack soup" is a popular specialty. From LA and New York to Paris and London, Northwest Geoduck teases the palates of culinary connoisseurs.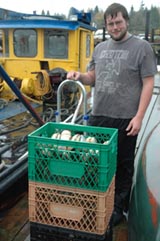 Geoducks are harvested in 30'-50 feet of water by small dive boats usually employing only two crew members. (one working on deck while the other dives. They can harvest up to 8,000 pounds per day. Harvesting can occur year round. The fishermen get about $2.35 per pound off the boats, while packers sell for around $8.00 at wholesale. Geoducks can be priced as high as $36 per pound at specialty retail seafood markets.
Since Geoduck clams are fast growing, maturing in only four years, they are considered renewable and sustainable resource. The State of Washington controls Geoduck harvesting by bidding out underwater tracks in the same manner that the state sells timber contracts. It's a huge money maker for the state. The permit fees on Geoduck harvesting tracks is second only to timber permit revenues--making Geoducks the states second largest natural resource revenue line item. State allows one boat per track and 10 tracks come up for bid per session. The Washington Department of Natural Resources diligently regulates the industry to prevent poaching. Harvesting is prohibited on east sound since it is too polluted between Everett and Tacoma.
Geoducks may be spotted at local sand beaches on minus tides. With a sports shelfish license and a little knowledge on what to look for, anyone can sample these delectable creatures. It's always a good idea to check the state beach closures before setting out to do any clam digging. (see Washington Dept of Fish and Wildlife - Shelfish Regulations)
The odd name "Geoduck" was loosely derived from the local Nisqually Indian language where it's name meant "to dig deep". It is rumored that because of the Geoducks phallic shape, it was the inspiration for the common myth about aphrodisiac qualities of shellfish.