Historic Seattle Boat Ferries
Zombie Cast at Port Gamble
When independent film producer John Sinno and director Kevin Hamedani first laid eyes on Port Gamble as a potential site for their film "Zombies of Mass Destruction" they must have thought they went back in time. The plot called for a quaint little American island town to host an onslaught of Zombies in a politically charged atmosphere of prejudice. The indy-film maker from Seattle found Port Gamble to have the perfect setting for such a film.
Part of the script called for a scene in which a water taxi was to deliver visitors "to the island". Cedar Wave Adventures by Sea, a local charter boat operator, provided the perfect vessel to match the character and charm of Port Gamble. The ALLURE, an authentic 1928 motor launch, made its way from Seattle to Port Gamble.

Vintage motoryacht 'ALLURE' dressed up as a water taxi for indifilm "Zombies of Mass Destruction"
Special locations like Port Gamble are getting the attention of major film producers too. Vancouver BC has the third largest film production just behind Hollywood and New York.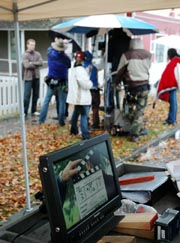 Because of the winter filming activity in Port Gamble, shops and restaurants enjoyed business they usually don't get this time of year. With all the Zombie extras needed, the small historic mill town stayed busy with a flurry of activity as its streets were filled with movie lights and camera tracks.
Port Gamble, founded in 1853, is still owned and managed by the original founding lumber company, Pope & Talbot. Port Gamble is on the Washington State historical register.
When finished sometime in 2008, "Zombies of Mass Destruction" will be playing permanently at the Port Gamble Theater as part of the deal for filming there according to the producers.
Cedar Wave plans to make regular charter runs from Seattle to Port Gamble starting later this year.

Camera crew and cast filming a scene aboard the ALLURE in Port Gamble.

Charter boat ALLURE awaits break in the weather for a final scene before heading back to Seattle.

Camera crew prepares to film a ghoulish scene in front of Town Hall.