The dark majesty of a Pacific Northwest forest is difficult to represent. Photographs can't really depict the immensity, the silence, the spirituality. The written word often comes off as hyperbole, if not cliche. But, as if by sorcery, the paintings of Emily Carr pull us in and allow us to feel what is there. To look at a canvas by this British Columbian artist makes the instincts twitch and the subconscious senses surface. True, her paintings are not exact representations; rather they are a gateway into a dream-like world. We meander for a time from reality, to emerge, energized, inspired and knowing.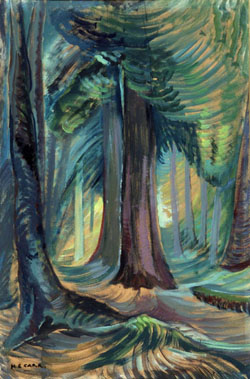 In July of 1863, Richard Carr, his wife Emily, and two young daughters landed in Victoria. He'd come from Britain via California where he'd made a modest fortune prospecting for gold and investing. By 1863 the family was living in a handsome Italianate house, bordering what is now Beacon Hill Park. With a Chinese cook named Bong and Mary, a First Nations woman who served as a housekeeper, the family had successfully replicated the Victorian lifestyle of English gentle folk at the far, Western edge of The Empire.
It was into this scene of frontier elegance that Emily Carr was born in 1871. Four sisters preceded her: Alice, Lizzie, Edith, and Clara. Father, Richard, was a stocky man, stern, ambitious and was said to have favored Emily. But his love for his youngest was anything but indulgent. When Emily begged for a dog, the answer was a firm "No." Which may likely explain why, in her adult life, Emily surrounded herself with a menagerie, which included multiple dogs, a monkey, and a white rat named Suzie. And in an 1880 sketch, which Carr did of her father, he is pictured looking austerely ahead, bespectacled, wearing a skullcap, which he was never without, to cover a balding head. In Emily's most well known self-portrait, the famously jovial Carr paints herself gazing dispassionately out of the frame, with spectacles (which she is rarely seen in) and wearing the signature skullcap she wore from mid life on. One can conclude that father was a powerful figure in Emily's life.
Mother Carr was very much into bringing up proper young women. The early years of the family read like a Canadian version of something by Louisa May Alcott.
The most beautiful and spirited of the girls, Emily was obstreperous from the get-go. In 1888 she graduated from Central Public School, eleventh in a class of thirteen. She entered Victoria High School that fall. Her father died and Emily dropped out. Emily was not against education. She simply seemed impatient with what she was getting in standard public schools. She went to San Francisco to study at the California School of Design and returned to Victoria in 1893 to make a living as an art teacher.
She grew restless. In the late 1890s, Emily went to England to study at the Westminster School of Art and at private schools in Cornwall. She found the English somewhat pompous. In 1904 she returned to Victoria. Two years later she moved to Vancouver where she taught art classes and settled into the small artistic community of the city.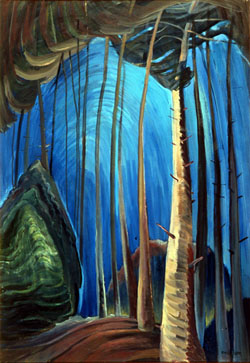 Emily's passion for the Far North and indigenous people probably began in 1907 when she journeyed to Alaska with her sister Alice. She painted the totem poles and met the artist Theodore Richardson in his Sitka studio.
She continued to roam. Between 1910 and 1911 she traveled to France to study art with British expatriates outside Paris (she didn't speak French and she disliked large cities). But undoubtedly she was exposed to the work and concepts of cutting edge artists of that time like Picasso and Matisse.
Out of this comes a common question: Was Emily Carr a Post Impressionist painter? Mary Jo Hughes, Curator of the Victoria Art Gallery, responds to that question with directness and spirit worthy of Emily Carr, "I hate labels. She was certainly influenced by Post Impressionist styles ... she was certainly modern in her approach ... looking beyond the literal."
True, Emily Carr is unique, she cannot be pigeon holed. Her style is beyond categorization. Yet to see the bold swirling branches of her Douglas firs, cedars and Sitka spruces is reminiscent of the movement in the heavens in Van Gogh's Starry Night. And Carr's celebration of native life and art in the Queen Charlotte Islands and the villages of the Inside Passage resonates with the same vibrato as the life in Gauguin's Tahiti. Surely the Post Impressionists made their impression on Emily Carr.
Back from Europe, Carr made trips to First Nations villages, traveling on the Skeena River and in the Queen Charlotte Islands. Put to today's standards, her life seemed adventurous, but not wildly unconventional. But for a woman in that era, traveling alone into wilderness and aboriginal settlements was unthinkable. But Carr went, producing a significant volume of work, recording the lives and customs of the First Nations people of British Columbia.
In 1913 she had a major exhibition in Vancouver. Her hope was that the government of British Columbia would purchase her painted record of tribal life. The paintings were rich with color and employed the bold, broken brush strokes that she had mastered in France.
The paintings did not sell. Was it the style? Was it early 20th Century sexism? How dare this work be done by a woman?
Regardless, Carr hardly picked-up a brush again until 1927. Times were tough and she needed to make money. She ran a boarding house, raised sheepdogs, she made pottery and gave art lessons. And, as she always had, she wrote. Many consider her contribution to Canadian literature to be as important as her painting. Her words color the page with the same flowing intensity that her brush paints the canvas.
Ironically, at this time when Emily Carr had all but given up painting, the fabled Group of Seven was thriving in Eastern Canada, doing work that was similarly avant-garde to hers. The Seven, all men, were enjoying artistic and financial success. Two of the group, Edwin Holgate and A.Y. Jackson, had come to British Columbia in the mid to late 1920s and painted First Nations villages and totems, getting recognition on a trail that Emily Carr had blazed.
Then Emily met Lawren Harris, something of the leader of the pack for the Group of Seven. Harris encouraged her and admired her skill. Carr was equally enthusiastic about Harris and his work. In her journals, she wrote:
"I have never felt anything like the power of those canvases. They seem to have called to me from some other world, sort of an answer to a great longing. As I came through the mountains I longed so to cast off my earthly body and float away through the great pure spaces between the peaks, up the quiet green ravines into the high, pure clean air. Mr. Harris has painted those very spaces, and my spirit seems able to leave my body and roam among them. They make me so happy."
Ian Thom, Senior Curator -- Historical for the Vancouver Art Gallery feels that at 57, Harris' encouragement rejuvenated Carr and led her back to the woods and the easel to produce what is, by far, the most significant volume of work in her life. It is this work that has made Emily Carr, as Thom says, "the most important painter who ever worked in British Columbia. No question. She shaped the way people see the province and its nature and landscape. She is the most important woman to ever paint in Canada."
Once again Emily hit the road with her menagerie, living and traveling in a vehicle, which she called The Elephant. Part mobile studio, part camper, part gypsy wagon, she is seen in photographs happily poking a fire while her dogs and monkey play around her.
For nearly the last two decades, life was good for Emily. Until her death in 1945, Carr enjoyed some fame. She was alternately affable and curt. She was delightful with friends, working class people, and fellow artists. As she grew old and sick, she hired and fired housekeepers finding it impossible to contend with insipid behavior in any form. She detested pomposity and when praise came in for her work she vowed not to be seduced by "this honeyed stuff, this praise."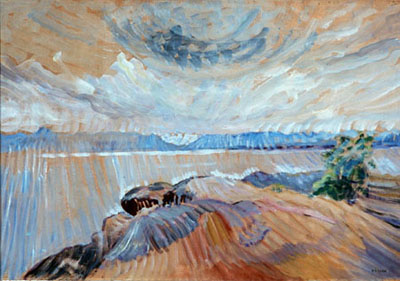 "Sea Sky"
Today Emily Carr takes her place, along with Georgia O'Keefe and Frida Kahlo in the holy trinity of early 20th Century North American woman painters. All had an enduring sense of place, a national identity, and intense connection with nature and a dedication to indigenous cultures. All three are as beloved and powerful in death as they were in life.
Had Emily Carr enjoyed the fame in life that is hers now, would it have mattered to her? Likely not. What she seemed to love most was her life as she'd always lived it. She tended her home, chatted with her friends, loved and fussed with her animals, and she painted pictures of the things she found beautiful.
In 1937 Emily was hospitalized. She kept a journal. On December 22nd, she wrote what may be the defining statement of her life:
"Somewhere there is a beautiful place. I went there again last night in my dreams. I have been there many, many times. It is extremely Canadian -- typically Vancouver Island."
And perhaps, thanks to her remarkable paintings, we all have been there with her.


---
Images of Email Carr Works in the Vancouver Art Gallery Collection
Emily Carr, Totem Poles, Kitseukla, 1912, oil on canvas, Vancouver Art Gallery Collection, Founders Fund, Photo: Trevor Mills, Vancouver Art Gallery
Emily Carr, Loggers' Culls, 1935, oil on canvas, Collection of the Vancouver Art Gallery, Gift of Miss I. Parkyn, Photo: Trevor Mills, Vancouver Art Gallery
Emily Carr, Old Time Coast Village, 1929-1930, oil on canvas, Collection of the Vancouver Art Gallery, Emily Carr Trust, Photo: Trevor Mills, Vancouver Art Gallery
Emily Carr, Big Raven, 1931, oil on canvas, Collection of the Vancouver Art Gallery, Emily Carr Trust, Photo: Trevor Mills, Vancouver Art Gallery
Emily Carr, Indian House Interior with Totems, 1912-1913, oil on canvas, Collection of the Vancouver Art Gallery, Emily Carr Trust, Photo: Trevor Mills, Vancouver Art Gallery
Emily Carr, A Rushing Sea of Undergrowth, 1935, oil on canvas, Collection of the Vancouver Art Gallery, Emily Carr Trust, Photo: Trevor Mills, Vancouver Art Gallery
Emily Carr, Above the Gravel Pit, 1937, oil on canvas, Collection of the Vancouver Art Gallery, Emily Carr Trust, Photo: Trevor Mills, Vancouver Art Gallery
Emily Carr, Old Village of Gwayusdoms, 1912, oil on paperboard, Collection of the Vancouver Art Gallery, Emily Carr Trust, Photo: Trevor Mills, Vancouver Art Gallery
NO LONGER AVAILABE FOR MEDIA USE -- Emily Carr, Self-portrait, 1938-1939, National Gallery of Canada, Ottawa, Gift of Peter Bronfman, 1990, Photo: (c) NGC
Emily Carr, Platter, c. 1924, clay and paint, Collection of the Vancouver Art Gallery, Bequest of Alice Carr, Photo: Tim Bonham, Vancouver Art Gallery
Emily Carr, The Raven, 1928-1929, oil on canvas, Collection of the Vancouver Art Gallery, Gift of Dr. Abraham and Mrs. Naomi Greenberg, Photo: Teresa Healy, Vancouver Art Gallery
Emily Carr, Self Portrait with Friends, c. 1907, watercolour, graphite and ink on paper, Collection of the Vancouver Art Gallery, Acquisition Fund, Photo: Teresa Healy, Vancouver Art Gallery
Emily Carr, Vanquished, 1930, oil on canvas, Collection of the Vancouver Art Gallery, Emily Carr Trust, VAG 42.3.6, Photo: Trevor Mills, Vancouver Art Gallery
Emily Carr, Zunoqua of the Cat Village, 1931, oil on canvas, Collection of the Vancouver Art Gallery, Emily Carr Trust, Photo: Trevor Mills, Vancouver Art Gallery
Emily Carr, Overhead, 1935-1936, oil on paper, Collection of the Vancouver Art Gallery, Emily Carr Trust, Photo: Trevor Mills, Vancouver Art Gallery
Emily Carr, Red Cedar, 1931, oil on canvas, Collection of the Vancouver Art Gallery, Gift of Mrs. J. P. Fell, Photo: Trevor Mills, Vancouver Art Gallery
Emily Carr
Blue Sky, 1936
oil on canvas
93.5cm x 65cm
AGGV Collection
1994.055.002
The Thomas Gardiner Keir Bequest
Emily Carr
Lone Cedar, 1936
oil on paper on board
90.8 cm x 60.1 cm
AGGV Collection
1994.055.001
The Thomas Gardiner Keir Bequest
Emily Carr
Sea and Sky, c.1936
oil on paper
59.5 cm x 88 cm
AGGV Collection
1977.162.001
Anonymous Gift