Artist Barbara Hall:
Expressions of Humanity
The transference of emotion to visual imagery is among the most challenging endeavors an artist can undertake. Seeking a methodology to put thoughts into static visions that convey something beyond rudimentary stimulus is perhaps the Holy Grail of modern creation.
Abstract artists frequently default to splashes of color and arbitrary graphical themes that can only succeed in triggering random cognition and raw emotions from individual viewers.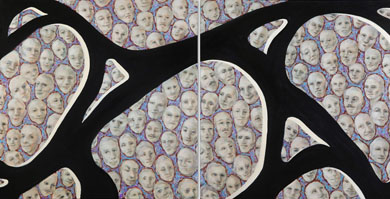 Artist Barbara Hall has discovered a way to engage and mesmerize the viewer with collages of human expression. Faces, hand gestures and body language greatly surpasses the gamut of written words and pictures. Hall has achieved a harmonic assembly of imagery that is a confluence of complex human emotions with contemporary abstraction to address a range of societal concerns.
The work is significant because it strikes a bold new direction in how human emotion can be visually defined--perhaps to a similar magnitude as the Impressionist Movement had recast the interpretation of the physical world.
Despite her outward ambivalence to the whims of politics, her work seems geo-political in nature as it is representative of the struggles and tribulations of today's global society. With a desire to motivate people to "think", Hall produces her visions as tools to help viewers conceptualize and appreciate the broad differences and individualistic spirit of humanity.
Hall's "Expression of Humanity" series is no less than a visual discussion of humanity as a whole. It would be easy to incorporate her imagery into deep political concepts about social constructs. A balance of individualism and social unity are evident in many of the pieces.
From a visual experience perspective, Hall's work has exceptional "hang time" that routinely locks viewer into an intense study of the many individual faces and gestures incorporated into her paintings. Young and old alike are reportedly captivated by the thousands of pairs of eyes and fingertips gleaming out from veils of unconscious and manipulated group actions.
A resident of the Pacific Northwest for many years, Barbara Hall began her career under the influence of her grandfather who was a well known commercial muralist in the Midwest. As a young ballet dancer and art student, she developed an early fascination for the interactions between people.
Presently living in the tranquil seclusion of Whidbey Island where she produces most of her work, Barbara Hall, reminisces about the masters under which she had obtained her skills. She was often told during her tutelage that she had an exceptional natural ability for composition. Her goals are to expanded the use of art as a means for social comprehension.
For more information about artist Barbara Hall, visit www.SameGlobe.org