Alki Beach (West Seattle)
California-style public sand beach, kayak rentals, restaurants, cafe's, summer volleyball and a three-mile waterfront promenade only minutes from downtown Seattle.
Anacortes
A recently rejuvenated retail district houses many great restaurants, boutiques and antique shops. Gateway to the San Juan Island, Anacortes has extensive marine facilities.
Coupeville
This quaint historic fishing village on Whidbey Island features restaurants, art galleries, clothing boutiques, gift shops and Victorian B&B inns.
Cowichan Bay


A classic little Northwestern fishing village with a handful of shops and eateries along with a waterfront maritime museum showcasing historic wood boats.
Edmonds
Enjoy expansive Western views of Puget Sound and the Olympic Mountains, cute boutiques, art galleries, restaurants, new marina, sand beaches, frequent community gatherings and Arts festivals.
Fairhaven
Authentically restored hundred-year-old brick buildings house numerous eateries and shopping boutiques.
Granville Island


Historic waterfront village in the heart of Vancouver, BC. Galleries, shops restaurants, museums, entertainment, markets and more. Surounded by boats and amazing views of the city.
Friday Harbor
The main port of call in the San Juan Islands for Washington State Ferries, Friday Harbor boasts many shops and restaurants and a large full-service marina with boat and moped rentals.
Gig Harbor
Revitalized historic seaport community with many shops, restaurants, and pubs. Protected anchorage and full service marinas with sail and fishing boat rentals.
Kirkland
An upscale waterfront community on the eastern shores of Lake Washington. Great restaurants, classy boutiques, exquisite galleries, marina and swimming beach.
CLICK ON MAP TO FIND MORE THAN ONE HUNDRED COOL PLACES TO VISIT!.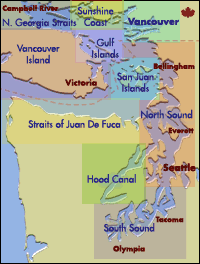 Find business listing, discouts, events, photos and more!
LaConner
Situated on a narrow channel between the Puget Sound and San Juan Islands, this once rustic fishing village turned shopper's paradise features many one-of-a kind boutiques, pubs, restaurants, galleries and antique shops.
Langley
Restaurants, boutiques, art galleries, and antique shops. Marina and big and a long sandy beach for summer strolls at low tide.
Nanaimo


Port of entry for the mainland ferries, Nanaimo features a new harbor and promenade with shops and eateries.
Roche Harbor
An historic lime factory turned high-class resort. Located on the western end of the San Juans, the Roche Harbor resort has a couple great restaurants and extensive marina with mega yachts from around the world.
Port Townsend
Late 1800's Victorian B&B inns, surround the old brick buildings that once serviced sailing ships from around the world. Art galleries, boutiques eateries and classic pubs adorn the waterfront.
Poulsbo
With a Scandinavian flavor, Poulsbo features restaurants, shops, galleries and a big marina.
Steveston


Historic fishing village with restaurants shops, galeries, B&Bs, warf beach park other and water attractions.
Victoria


A west coast city with a very British feel. Intimate harbor buzzing with constant tourist activity. Lots of restaurants, shops and pubs within walking distance from the harbor.
Winslow
Bainbridge Island's port of entry for Washington State Ferries. Restaurants, shops, and art galleries.