Puget Sound Magazine
Trip Planning Directory

Our trip planning directory is your best resource for planning your next outing or weekend getaway on Puget Sound. We provide direct links to all the web sites for shoreside and water amenities around the Sound. Additionally, we are getting around to personally inspecting and publishing reviews for as many of the listings as we can. Over the months ahead, you will see more and more of the "[!]" symbols next to the listings. Just click on it to read our review about each listing. We are also posting special vouchers and coupons that you can print. It's easy, Just present them when you book or purchase services and products.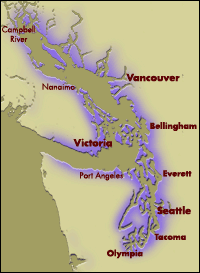 Our goal is to provide the most comprehensive source for information on enjoying the waterways of the Puget Sound region. Whether you are planning a beach picnic, a weekend spa getaway, or looking for a permanent piece of Puget Sound real estate to call home, we strive to make your dream possible by making it easy for you to directly contact the hard to find businesses along the shorelines of the Puget Sound region. Why is it so hard to find these businesses? The Puget Sound region is represented by a large number of communities on and off the water. The Internet search engines don't decipher what amenities are near the water or not. Without knowing the names of specific communities like Coupeville, Winslow, or Hoodsport, it's a chore to find all the options you might want to consider in your quest to have a Puget Sound experience.
Our lists of quaint B&Bs, resorts, tour companies, waterfront real estate agents, charter boats, restaurants, and other amenities are the best place to start your planning. We have direct links to everyone's web site, and with some, you will find printable discount vouchers. Unlike other travel listing web sites, we do not charge for inclusion in our basic directories, so you will find everyone in here. As we grow Puget Sound Magazine, you will see more and more of our editorial reviews (indicated by a little red explanation point to the left of the listing). We will strive to eventually visit each and every place on our list to give you our humble and honest opinion.