OLD-FASHION PICNIC BOATING: Doing Lunch in Style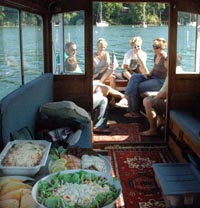 In the old days, they really had the right idea about a few things. It was in the 1920's when local yacht builders were producing leisure cruising boats for the middle class. These sleek varnished wooden pleasurecraft glided effortlessly though the water carrying their guests out away from the noisy motor cars and clanky wheels of industry along the shore. Everyone dressed in their Sunday best destined to enjoy a leisurely outing on the clear crisp waters of the Pacific Northwest.

---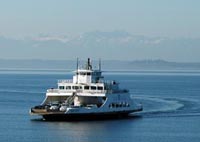 GETTING AROUND THE SOUND:
Ferry Tripping Made Easy
Between Washington State and British Columbia lies the most extensive ferry system in the world. These giant boats carry millions of passengers each year to more than 60 ports within the region. Washington State Ferries operates 28 vessels on 10 Puget Sound routes, while BC Ferries operates 36 vessels navigating 33 routes around the Georgia Straits.

---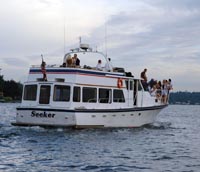 FIRST TIME CHARTER:
How to Select a Private Charter Boat
There is nothing more enjoyable than being out on the water on a course of your own whim. Cruise ships are locked into specific routes months in advance--and even if you sit at the captains table every night, you will probably not be successful at convincing him to steer an alternate course to satisfy your curious desires. Sight seeing and tour boats are usually the same kind of deal. If there are lots of other people, your desires just don't count for much. However, charter your own vessel, and suddenly you are in control of your vacation destiny!

---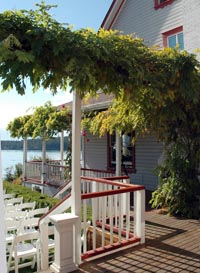 ROMANCE BY THE WATER:
How to Find the Perfect B&B
There is nothing more romantic than finding a cozy little bed and breakfast with an expansive view of the sea. For most people, the whole idea behind going to a B&B is for the relaxation, ambiance and personalized attention far removed from the constant buzz of activity associated with large hotels and resorts that seem to apply a kind of honeycomb approach to packing guests into there vacations suites.

---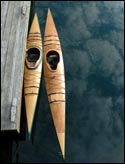 Kayaking is the most personal and peaceful way to connect your soul with the natural beauty of Puget Sound. For those who partake in self-propelling their human bodies alongside the sleek bodies of whales and seals down under share a common sense of existence. - At least until feeding time. The downside to kayak trips is the lack of space for all those modern day conveniences.

---