Maritime History & Tradition:
Port Townsend - Wooden Boat Capital of the West Coast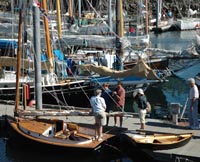 The Port Townsend Wooden Boat Festival is one of the most popular events in the word for wood boat enthusiasts. The festival has been held annually for over thirty years. Hosted by the Wooden Boat Foundation (a unit of Northwest Maritime Center in Port Townsend), the event occurs in early September each year and attracts classic boat owners, exhibitors and visitors from around the world. Last year in 2007, over 200 boats were on display. Small-craft, power and sailboats of all kinds were there with one major thing in common--they were all made of wood.

---
Wooden Boat Work:
A Northwest Tradition
Boats of wood have been built in the Northwest for more than 150 years by hundreds of local boat builders. From rowing skiffs to sailing ships, wood was the material of choice for commercial fishermen, sailors, and yachtsman alike. It wasn't until after World War Two when other materials replaced wood boat building as tradition gave way to cheaper and faster methods. Yet, wood boats seem to outlast all others. Steel and aluminum dissolve away, while fiberglass de-laminates, fissures and drifts out of style as the years go on. But wood boats, if diligently maintained, will span generations.

---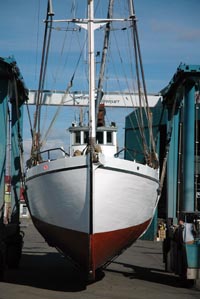 New Life for Oldest Surviving
Seattle Built Halibut Schooner
It was a century ago when motorized fishing vessels from the Pacific Northwest began to ply the rich waters off Alaska for halibut, cod, and salmon. In the days before ice was readily available, fish were either salted or canned prior to being transported down the coast. Foreseeing opportunities to sell seafood to the masses, enterprising boat builders and fishermen invested in new techniques and processes. The faster hybrid gas and oil auxiliary boats were able to catch and deliver more fish than the heavily-crewed sailing ships of the day.

---
Fate of the Lumber Schooner Wawona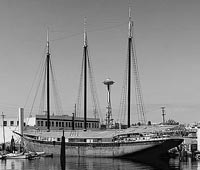 The once proud three-masted schooner Wawona quietly lies de-masted and severely weathered as she awaits her final fate at South Lake Union in Seattle. For the small percentage of people who are third generation or more in the Northwest, a significant part of your past is about to disappear. This wooden relic stands in stark contrast to Seattle's technology-age monoliths and sterile downtown park plans. So oddly out of place today at her lakeside moorage where she has been for the last 25 years, the tide of newly graduated x-box champions turned designers shrug at the sight of the huge dilapidating hulk--thinking it must have been left over from a Hollywood pirate movie set or something.