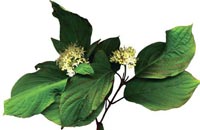 Pacific Dogwood
Standing in Shadow
We've come to Seattle's Washington Park Arboretum early in the morning to photograph birds while searching for Pacific dogwood (Cornus nuttallii), our primary quarry.

---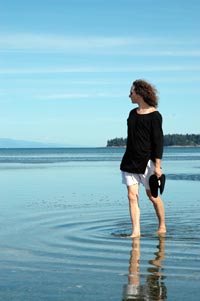 It's a shame that so many people are afraid to get their feet wet in Puget Sound. Maybe it's that the water temperature stays at about 48 degrees year round--rain snow or sun, much of the water in the greater Georgia Basin mysteriously stays cold and perceptively uninviting. The reason for the cold is the constant supply of deep, fresh ocean water that cycles ever so slowly down from the Gulf of Alaska; joined by the cool river waters fed by melting glaciers and rainstorm run off deep in the high elevations of the Cascades and Olympic Mountains.

---
SOUND BEACHES:
Losing More Than Just Shady Sands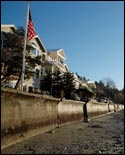 Has waterfront Development on Puget Sound had a profound effect on fish stocks? There has been much debate over the years as to what contributed to the decline in many fish species on the Puget Sound. Some argue that oil waste runoff from freeways and parking lots contribute the most damage, others claim chemical laden sewage from failing drainage fields and unchecked outfalls is the culprit. No one doubts that the toxins from decades of heavy industry have taken its toll on the health of the waters in Puget Sound. Other suspicious activities such as bilge water from far away ports containing critters that don't belong here.

---
KITSAP CUT:
Circulation May be Key to Improving Puget Sound Water Quality
Puget Sound was randomly created by the forces of nature. For eons, life adapted and thrived in the unique topography of the region--a delicate balance between the rain-wash off the surrounding mountain ranges and nutrient rich salt water delivered from the Pacific Ocean.

---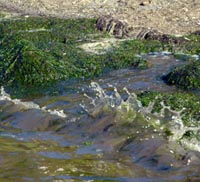 Stinky Beaches May Hold Source for New Alternative Energy
In recent decades, waterfront property owners and beach visitors along the shores of Puget Sound have experienced an increasingly noxious smell during the hot summer months of July and August. The stench has caused some beach-front residents to drift away from their usual summer plans in lieu of cleaner shores somewhere else. So much so that county and city officials are concerned about an eventual negative effect on property values in the highest taxed neighborhoods between Seattle and Tacoma. But the foul whiff in the air is a sign of troubles down deep according to government environmental scientists.