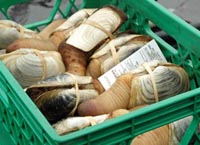 MAKING CLAMS PAY:
The Big Bad Geoduck
There is nothing more romantic than finding a cozy little bed and breakfast with an expansive view of the sea. For most people, the whole idea behind going to a B&B is for the relaxation, ambiance and personalized attention far removed from the constant buzz of activity associated with large hotels and resorts that seem to apply a kind of honeycomb approach to packing guests into there vacations suites.

---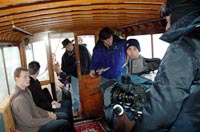 Historic Seattle Boat Ferries Zombie Cast at Port Gamble
When independent film producer John Sinno and director Kevin Hamedani first laid eyes on Port Gamble as a potential site for their film "Zombies of Mass Destruction" they must have thought they went back in time. The plot called for a quaint little American island town to host an onslaught of Zombies in a politically charged atmosphere of prejudice. The indy-film maker from Seattle found Port Gamble to have the perfect setting for such a film.

---