REAL ESTATE ON THE SOUND:
The Price to Own Shoreline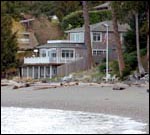 There are few places in the world like Puget Sound. It's a kind of quirky drainage ditch left over after 3,000 feet of ice blanketed the area some 10,000 years ago. Flanked on the east side with bustling industry, railroad tracks and sprawling suburbia, the waters of Puget Sound have moderately kept the advancing populations at bay like a giant moat. To the West, are islands and shorelines still retaining a resemblance of their natural state. In the sunset shadow of the rugged and desolate Olympic Mountains, the western side of Puget Sound is a complete dichotomy of it's eastern shores. Never the less, real estate prices all over the Puget Sound region have soared since the late 1970's.

---
PORT OF DESIRE:
Mooring a Boat on Puget Sound
You'd think that mooring a boat in Western Washington could happen just about anywhere. After all, there are some 3,000 miles of shoreline'you should be able to just put a dock or a buoy out almost anywhere. Right? Wrong! But never fear, there are options available to you!

---
LIVING WITH THE DUCKS:
Seattle's Floating Homes & Funky Houseboats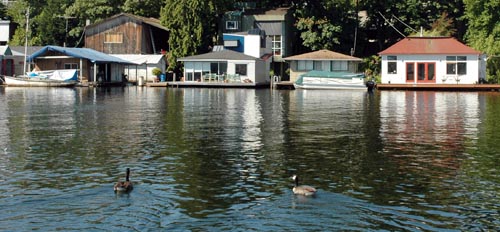 Floating homes are one of the truly unique habitats in which to live. Seattle has one of the largest communities of modern floating homes in the world. Floating homes aren't boats (although they are often affectionately referred to as 'houseboats'). They are just like any other land built house except that they are floating on the water. Of course there are a few differences: You won't find any basements or garages!

---
BEACH OF DREAMS:
Waterfront Mansions of Lake Washington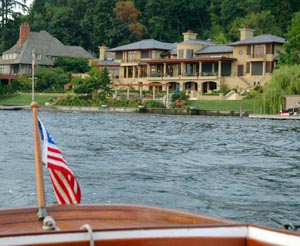 magine waking up in the morning and gazing out at a misty sunrise over a pristine body of water. Its silvery surface reflecting the blue skies and dreamy fortunes of the day ahead like a gigantic crystal ball. Out your back door lies the streets and power-lines that connect you like everyone else to the bustling city only moments away. But out your front door, on the edge of civilization, exists a mysterious watery realm that is in such sharp contrast to the world we live in that it can leave you almost speechless as you stare across its depths.