Welcome to Puget Sound Magazine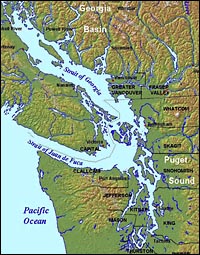 Puget Sound Magazine is dedicated to providing readers with ideas for enjoying the magnificent waterways, islands and shorelines of the greater Puget Sound region. Known to early settlers as the Salish Sea, we consider the entire Georgia Basin from Olympia, WA to Campbell River, BC to be inclusive in the interests of those who love to experience inner coastal adventures.
Our goal is to provide travelers with news and information from a water-centric point of view. Our editorial content ranges form shoreline destination reviews and water oriented vacation planning to environmental issues and social concerns that shape the region.
We are striving to build the most comprehensive Trip Planning Directory of shore-side amenities in the region. - Whether you are planning an extensive expedition or a short day outing, we want to make your excursion planning easier.
We are open to your suggestions. So, if you have ideas on how we can better serve Puget Sound area visitors, please contact us.
PugetSoundMagazine.com
206-355-0133
Editor
David Petrich
Advertising Sales
ads@PugetSoundMagazine.com
Editorial Comments
editorial@PugetSoundMagazine.com
Subscriptions
subs@PugetSoundMagazine.com